MERESA ATIENO, THE CHAMPION CLIENT
A testimony by Meresa Atieno, the first patient enrolled for HIV/AIDS treatment, care and Support at St. Camillus Mission Hospital, Karungu in Kenya in 2002 and still active with a wealth of milestones in her life. Her story touched hearts when she personally narrated on November 28, 2016 in Nairobi during a national convention dubbed Faith Based Organization (FBO) Dissemination to mark achievements made in HIV/AIDS care in Kenya by Mission Facilities. This was followed by another meeting on December 3, 2016 organized by CDC for partners funded by US Government in Kenya
'' My name is Meresa Atieno aged 38, married and a mother of three. I reside within Sori township, Karungu, Migori  County. I was diagnosed with HIV/AIDS in 2002 while a staff at St. Camillus M. Hospital. The decision to  know my HIV status was necessitated by recurrent illness out of multiple opportunistic infections to the extent of being  admitted for inpatient care quite often. Dr. Bertha, the then Medical Officer in-charge at the wards found it appropriate to advise me and my family over seeking HIV test. The result was positive. In 2002 when HIV stigma was at its peak, such a result was automatically a certificate to social discrimination especially in the Luo Community where I belong. To the worst, many  condemned me to death. With all the challenges, I had to find time to internalize the outcome and face the hard reality.
Antiretroviral(ARVs) had been introduced but not very popular nor accepted within my community. Further, they were at a fee. St. Camillus Karungu was one of the few facilities in Western Kenya that had started HIV/AIDS care with the use of ARVs. Still a support staff at St. Camillus, I was initiated on ARVs on approval of the Hospital Director Fr. Emilio Balliana. The approval was mandatory since ARV fee was to be catered for by the Hospital Administration for staff. My 1st CD4 count was only 200… The deteriorating health could not allow me to discharge my duties to the organization satisfactorily hence my monthly wages were reduced by half just to ensure that I got something for subsistence and not relieved of my duties.
Taking my ARVs was not the task, but how my colleagues viewed me at work place! They had to dust the toilets with disinfectant anytime they realized I had used one. Any cloth of mine on the lines would be dropped down to avoid contamination and subsequent HIV infection from my linens. These among many more crops of humiliations almost broke my heart amidst acute abdominal pain that orchestrated  my sufferings. If it were not for the support I received from my family and health care providers, I could have abandoned my treatment and succumbed to the ailments at this nascent stage.
My health improved each day I took my medication, opportunistic infections subsided and I started gaining weight. Once more I started feeling like myself. After one year of my treatment, I consulted with my health care provider over my clinical adherence indicators. To my excitement, the CD4 count had risen to 970 in December 2004. Same year I made a decision to pursue my studies having secured an  opportunity to join Kenyan Teachers Training College (TTC) which I had applied for earlier. My college to be was Garisa TTC in North Eastern Kenya,…………..km from my home area. Despite discouragements from a section of family members who foresaw my demise again due to my status, I made it without any major complications within the two year training period. I was able to be issued with three months drugs for the entire period. My graduation with a certificate in Education was a surprise to many. To me, this was a fulfilled dream. While I waited for four years to be absorbed in Government Schools, I participated actively patient support groups now initiated under AIDSRelief Program. AIDSRelief was a USG  funded program implemented by Catholic Relief Services SINCE 2004. It came with free treatment to the people living with HIV/AIDS where we were rolled over to within St. Camillus.
Besides Education, I am blessed with 3 little girls aged between eight and one year. All HIV negative after a number of tests. Am now employed by the Government of Kenya as a teacher. My husband knows his HIV status too. My last Viral Load test taken on February 2015 was suppressed.
My sincere thanks goes to Dr. Bertha, now program medical officer, Obillo Meshack, Program Coordinator, Fr.Emilio, Hospital Director and the entire St. Camillus Staff. Further, I congratulate the efforts of US government through CDC Kenya alongside the Kenyan Ministry of Health. Lastly the almighty God that has seen me through"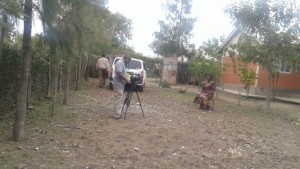 Meresa during media interview at her residence.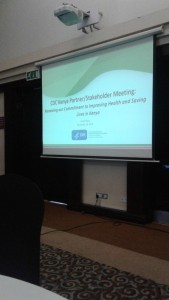 Meeting title projected.
Meresa presents at the FBO Dissemination in Nairobi.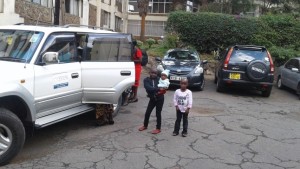 The entire entourage prepares to leave Hotel for the venue.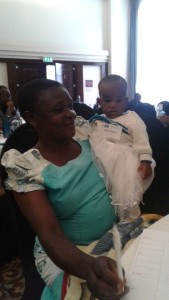 Meresa with her younger daughter during the CDC meeting.
. Meresa chats with head of CDC in Kenya Dr. Kevin De Cock.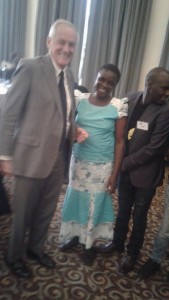 Meresa with Dr. De Cock.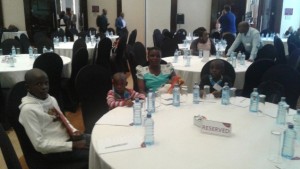 CDC meeting session.