APHLINE ACHIENG
Meet Aphline, she was born on 28th August 2015. She comes from Gombe village in Mbita. Aphline is the last born in a family of 7 children. She is a partial orphan and his father is a fisherman. She was enrolled to St. Camillus Mission hospital for her ART therapy. We are happy that she finally got to join foster family and we believe she will be happier here because she will interact with other children of her age with more or less of same challenges as her. She will also get to go to school consistently and get a nutritious meal.
Ecco Aphline, è nata il 28 agosto 2015 nel  villaggio di Gombe a Mbita. Aphline è l'ultima di 7 figli. È orfana di madre, suo padre fa il pescatore. È iscritta alla terapia ART del St. Camillus. Siamo contenti che abbia finalmente potuto unirsi alla famiglia  del Dala Kiye. Crediamo che qui potrà essere felice perché interagirà con altri bambini della sua età, che si trovano ad affrontare gli stessi problemi. Potrà  andare a scuola e avere un'alimentazione corretta.
EMMANUEL ELLY
Emanuel was born on 17th April 2009 in Miria village, Homabay County. He is the last born out of two children. He lost his parents to HIV and was left a total orphan and also HIV positive. He was initiated on ARVs immediately after diagnosis on 17thApril 2012. The challenges which led to him being considered for care and support at our center were of shelter, water, proper health care and food. The distance from home to school was also very far and mostly he would miss on some lessons. He is currently at B.L.Tezza primary school.
Emanuel è nato il 17 aprile 2009 nel villaggio di Miria, nella contea di Homabay. È l'ultimo di due figli. Ha perso i suoi genitori a causa dell'HIV, è un orfano totale e anche sieropositivo. Ha  iniziato la terapia  ARV subito dopo la diagnosi il 17 aprile 2012. Emmanuel viveva in una casa fatiscente, senza assistenza sanitaria, con scarsità di cibo,lontano dall'acqua e dalla scuola. Per tutti questi motivi Emmanuel è stato ammesso al Dala Kiye  e frequenta la scuola primaria B.L.Tezza.
EMILLY AKINYI OSORE
Emily comes from Aloma village in East Karungu Location.  She was born on
22nd September 2007 in a family of 4 children and has since then been a client of ST. Camillus ART program. Emilly has been under the care of her grandmother until her passing when Emilly's father assumed the responsibilities of the young girl. Being a widower, He was overburdened and he sent his request to Dala Kiye children home for his daughter to be admitted in foster care because he wanted her to have a better life.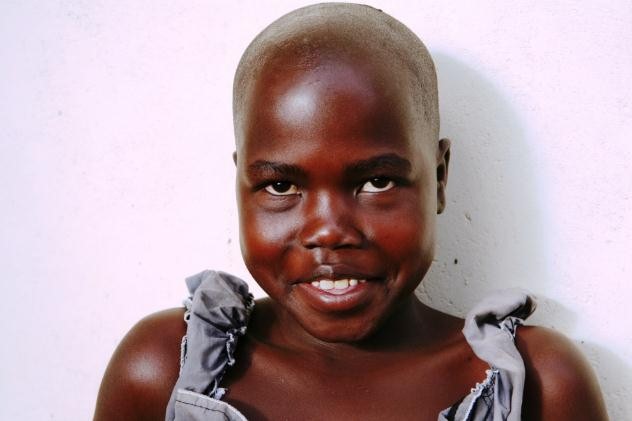 Emily arriva dal villaggio di Aloma, nella divisione di  Karungu.E' nata il 22 settembre 2007 in una famiglia di 4 figli, da allora è iscritta al  programma ART del ST. Camillus. Emilly ha vissuto con la nonna fino alla sua morte per poi tornare a vivere con il padre. Essendo vedovo ed avendo altri figli cui badare,  ha fatto richiesta di ammissione di Emilly al  Dala Kiye affinché sua figlia possa avere una vita migliore.
SHALTON OMONDI
Shalton hails from Lwala Rabuor village in Nyatike District Migori County. He was born on 1st January 2010. Shalton's family suffered from the virus HIV which robbed him off his mother. He was left a partial orphan with only his dad to care for him. Without food and living in a poor unhygienic environment, the boy's health deteriorated and his drug adherence was so poor.
Currently Shalton enjoys the comfort of the foster houses and he will never go hungry because he will be receiving a daily balanced diet.
Shalton proviene dal villaggio di Lwala Rabuor nella contea di Migori, nel distretto di Nyatike. È nato il 1 gennaio 2010. La madre di Shalton è morta di AIDS. È un orfano parziale  ed è suo padre a prendersi cura di lui. Shalton ha vissuto in un ambiente povero con scarsità di igiene e di cibo e la sua salute ha cominciato a peggiorare manifestando poca  aderenza ai farmaci. Attualmente Shalton gode del comfort delle casette del Dala Kiye ed è nutrito in modo equilibrato.
JUDITH AWINO
Judith was born on 11th May 2010. She comes from Sero Village, in Homabay County.
Her mother died on 25th March 2012 and she remained under the care of her grandmother because the father was unable to take care of her.  She tested HIV+ on 5th April 2012 and was enrolled into the ART programme and initiated
Judith was admitted at Dala Kiye on 30th January 2020 and enrolled at B.L.Tezza primary school.
Judith è nata l'11 maggio 2010. Viene dal villaggio di  Sero, nella contea di Homabay.  Sua madre è morta il 25 marzo 2012 ed è andata a vivere con la nonna perché il padre non è stato in grado di prendersi cura di lei.  Il 5 aprile 2012 è stata iscritta al programma ART. Judith è stata ammessa al Dala Kiye il 30 gennaio 2020. Frequenta la scuola primaria B.L.Tezza.
...