SIAYA KARP VISIT REPORT 2018
KCCB CONFERENCE REPORT 2018
EGPAF VISIT NARRATIVE REPORT 2018
EGPAF VISIT NARRATIVE REPORT-2018.
ADVERSE DRUG REACTIONS (ADRs) IN KENYA 2010-2015
Kenya has been a member of the WHO Program for International Drug Monitoring since May 4, 2010 and has been submitting ADR reports to the Uppsala Monitoring Center (UMC) since that year. A total of 8,852 had been submitted as at December 31, 2015. Of the 325 Health facilities across the Country that participated in the exercise within the initial period of 5 years, St. Camillus Mission Hospital, Karungu was rated second best after a Provincial Government Hospital, Moi Teaching and Referral, Eldoret. This carried in 'The Lifesaver', a Publication of the Pharmacy and Poisons Board of Kenya, 6th Edition, released in September 2016. Classes of Drugs under evaluation include ARVs, Antibiotics, Anti-TB, Anti-Malarial, Anti-hypertensive and Anti-Cancer.
The flavor of this revelation is the fact that St. Camillus Karungu as a facility falls far much below a number of these Institutions rated in the first cohort of 21 in terms of Infrastructure, Specialized Human Resource capacity, Target Population and Patient turnover not to mention the location which is unfairly served by numerous National Government networks.
In spite of all the disparities out of limited resources, we promise to continue holding our banner high and fairly compete among the most favored for the good course of ensuring human life is saved with dignity.
Our strength rests in the sheer staff dedication, supportive Administration and respect to God.
Reported by;
Obillo Meshack.                                 
A.R.T.  Program Coordinator.
PAUL AND BETTY:   WINNING TOGETHER
"We thank the St Camillus Mission hospital in Karungu through KCCB – KARP for giving us the opportunity to share our story in the just concluded KARP I close out and Launch of KARP II forum held on 30th May 2017 in KISUMU.
We are a living testimony that with good adherence to antiretroviral therapy, a strong psychosocial support network and quality HIV care from a health facility, one can live a long, normal and healthy life.
We hope our story makes a difference in somebody's life and ultimately changes his/her situation.
Paul and Betty
"We are a married couple in our 40s, we have been blessed with four children aged between 23 and 15. Three of them are young adults pursuing their university education while the last born is a high school student. We live in Sori – Karungu and we are both high school teachers."
Paul
"Sometime in 2008 while teaching in Turkana district (having been seconded there by the Catholic Church), l began experiencing on and off episodes of illness and a persistent cough. As time went on l began losing weight and so in October 2008 l gathered enough courage to visit a voluntary counseling and testing center (VCT) in Homabay for an HIV test, the result was positive!
I later visited Homabay hospital where a repeat test confirmed that I was indeed HIV positive. The test for Tuberculosis (TB) was also positive, I had the 'terrible two'! My life literally fell apart after these results.
I was immediately started on TB treatment, which during those days was a long and draining program. My CD4 count was also taken and when the results came out my CD4 count was one (1)! Even the doctor could not believe this and he requested for a repeat test but facts are stubborn….the result was still a CD4 count of one (1). (Nowadays my wife teases me about it by saying that the results must have been a CD4 of zero but since the machines could not recognize zero they  thought it was polite to give me one 1 instead)
By this time I weighed a mere 47kgs from my normal weight of 65kgs, I was very ill.
As part of my TB treatment and care, I was required to visit the health facility in Homabay weekly for a refill of my medication. The journey from Turkana was tedious and so I asked my employer for a transfer back home. I felt I needed to be nearer my family for better care and also this would make it easier for any member of the family to pick for me my medication in case I got too frail to reach the health facility.
After stabilizing on my TB treatment, I was finally initiated on antiretroviral therapy (ARV) in March 2009.
The first person to whom I disclosed my status was my younger brother who is also a close friend, his response and support was awesome!
He flew back into the country and told me not to worry about anything else but concentrate on getting well, this was just the kind of boost I needed at this time. This gave me the courage to disclose my status to my remaining siblings.  However, this was the easy part……
The most difficult part was disclosing my status to my wife and indeed my fear was real!"
Betty
"When my husband disclosed to me his status, all hell broke loose literally! I lost count of how many cups and plates I smashed on the wall or how many window panes I broke during my moments of anger and frustration
Since he was too weak for any verbal or physical onslaught, I hit out at anyone and everybody.
I was consumed with rage, anger, pain, frustration, confusion and all manner of destructive emotions.
This had a very negative impact on our relationship and family life as a whole.
It was a very dark moment in our life. At this time I was teaching at a school in Nairobi while he had just transferred back home from Turkana.
I began losing weight and my usual spark for life. I was a very sad and unhappy woman!
After a while I opened up to my mother and this is what she had to say,"
"Betty, [in sickness and in health] is not just a pretty sentence said at the wedding it is a promise and a covenant you made to each other before man and God you can win this together and see your children grow into adults or you can destroy each other and leave your children orphaned and vulnerable, the choice is yours."
That was not what I wanted to hear then……….I thought my mum's words were a bit too harsh. However, I soon realized that she was right. I needed to put a stop to my 'pity party' and open my eyes to the reality of our situation…. this brought back my sanity. It then dawned on me that my husband and I needed each other's support then more than ever before.
After a lot of counseling, psychosocial support, extensive reading on care and management of HIV and stories of people who had overcome HIV, we made the decision to fight and win together. With this resolve, I left full time employment and came back home to be my husband's primary care giver. This move soon bore fruit because by December 2009, my husband's weight had gone up from a lightweight of 47kgs to 58kgs, his CD4 count shot up to 720 from the initial one of (1) and his viral load was undetectable!
We were very excited, and slowly our relationship began to heal too."
Paul
"Though my family was very understanding and supportive, the extended family and community was not. Having been sickly and bedridden I had lost a lot of weight. Some members of the community had already passed a death sentence for me. They were sure I would never recover and it was just a matter of time. Some of them would make unkind remarks even within my hearing and since I was too weak to prove them otherwise, this hurt very much. If it were not for the support I got from my family, especially my wife I would have stopped taking my medication and hastened my journey to an unnecessary death.
Stigma is bad; it can break even the strongest person!
Coming from the Luo community where culture contributes to ignorance, many said I had contracted 'chira'– a disease mainly associated with breaking certain cultural norms.
The situation was not any different at my work place. My colleagues whispered unkind words behind my back and avoided sharing any space with me. They would not even touch plates or cups I had used despite them having been washed…this was very depressing.
It was clear to me that lack knowledge about HIV fuels stigma towards people living with HIV and it was then that I resolved to share whatever knowledge or experience I had about HIV.
As my health continued to improve and I was no longer sickly and frail, my self-esteem soared and I was able to ride over this stigma and come out stronger. I made a personal vow to do whatever was within my power to offer psychosocial support to people facing stigma."
Betty
"My husband's health continued to improve tremendously, the opportunistic infections disappeared and his weight reached 60kgs, it was a time of great joy for us.
It was clear to the community around us that TB is curable and antiretroviral (ARVs) work!
However towards the end of 2011, I started feeling unwell too. I had on and off headaches, flu like symptoms and persistent diarrhea. Somewhere at the back of my mind I had always known that there was a possibility that I could also be HIV positive. But, since I was still in relatively excellent health, I concentrated on nursing my husband back on his feet.
So I continued living in blissful denial and uncertainty until March 2012 when I got an attack of Herpes zoster (an opportunistic infection). I knew then it was time to face the elephant in the room- it was time for me to take the HIV test too.
An HIV test soon confirmed that indeed I was HIV positive.
Luckily for me, at this time my husband had regained his health and he provided the much needed care, support and emotional strength that I needed.
I also had the advantage of having read so much about HIV in addition to being my husband's primary care giver when he was down therefore my ride through the initial shock of discovery was remarkably smooth.
My husband's strength and support was amazing and to date we remain each other's biggest support group!
My CD4 count was still a 'healthy' 272 after the test. However both my husband and the doctor at the facility advised that I begin my antiretroviral therapy. So in October 2012, I was initiated on ARV treatment. When I took my viral load test six months later my viral load was undetectable and I had a CD4 count of 950! That's the power of antiretroviral therapy."
 Paul and Betty
"We believe that in matters of HIV, 'ignorance is not bliss'.
The more knowledge one has on management of HIV, the better and richer the quality of life one leads.
As teachers of Guidance and counseling in our respective schools, we are often faced with dealing with the challenge of handling adolescents living with HIV. At such times our experience and knowledge on matters HIV have been instrumental in enabling us offer psychosocial support, guidance and mentorship. This has helped our students living with HIV adhere to their treatment and as a result achieve viral suppression which not only contributes to good academic performance but also a positive self-image and therefore improved quality of life.
We also take time to educate our colleagues about HIV/AIDS.
At the community level we mentor and educate people on HIV/AIDS and also encourage people we suspect are suffering from an HIV related illness to visit the nearest health facility for treatment. Seeing a once very sick person regain his/her health and go back to gainful employment or lead a normal life motivates us to continue being 'unofficial representatives' of people living positively with HIV.
The quality of care provided at our health facility has played a big role in enabling us adhere to treatment and also achieve and maintain viral suppression.
We continue to be on the 1st line ARV treatment regimen from initiation to date.
For this we most sincerely appreciate Fr. Emilio and his staff at St Camillus Hospital Karungu, the Kenya Aids Response Program (KARP) through the Kenya Conference of Catholic Bishops (KCCB) and the US government through CDC-Kenya."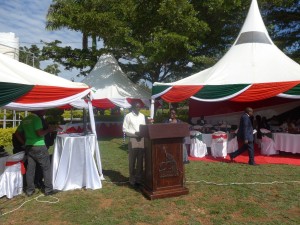 Betty and Paul
13/06/2017
MERESA ATIENO, THE CHAMPION CLIENT
A testimony by Meresa Atieno, the first patient enrolled for HIV/AIDS treatment, care and Support at St. Camillus Mission Hospital, Karungu in Kenya in 2002 and still active with a wealth of milestones in her life. Her story touched hearts when she personally narrated on November 28, 2016 in Nairobi during a national convention dubbed Faith Based Organization (FBO) Dissemination to mark achievements made in HIV/AIDS care in Kenya by Mission Facilities. This was followed by another meeting on December 3, 2016 organized by CDC for partners funded by US Government in Kenya
'' My name is Meresa Atieno aged 38, married and a mother of three. I reside within Sori township, Karungu, Migori  County. I was diagnosed with HIV/AIDS in 2002 while a staff at St. Camillus M. Hospital. The decision to  know my HIV status was necessitated by recurrent illness out of multiple opportunistic infections to the extent of being  admitted for inpatient care quite often. Dr. Bertha, the then Medical Officer in-charge at the wards found it appropriate to advise me and my family over seeking HIV test. The result was positive. In 2002 when HIV stigma was at its peak, such a result was automatically a certificate to social discrimination especially in the Luo Community where I belong. To the worst, many  condemned me to death. With all the challenges, I had to find time to internalize the outcome and face the hard reality.
Antiretroviral(ARVs) had been introduced but not very popular nor accepted within my community. Further, they were at a fee. St. Camillus Karungu was one of the few facilities in Western Kenya that had started HIV/AIDS care with the use of ARVs. Still a support staff at St. Camillus, I was initiated on ARVs on approval of the Hospital Director Fr. Emilio Balliana. The approval was mandatory since ARV fee was to be catered for by the Hospital Administration for staff. My 1st CD4 count was only 200… The deteriorating health could not allow me to discharge my duties to the organization satisfactorily hence my monthly wages were reduced by half just to ensure that I got something for subsistence and not relieved of my duties.
Taking my ARVs was not the task, but how my colleagues viewed me at work place! They had to dust the toilets with disinfectant anytime they realized I had used one. Any cloth of mine on the lines would be dropped down to avoid contamination and subsequent HIV infection from my linens. These among many more crops of humiliations almost broke my heart amidst acute abdominal pain that orchestrated  my sufferings. If it were not for the support I received from my family and health care providers, I could have abandoned my treatment and succumbed to the ailments at this nascent stage.
My health improved each day I took my medication, opportunistic infections subsided and I started gaining weight. Once more I started feeling like myself. After one year of my treatment, I consulted with my health care provider over my clinical adherence indicators. To my excitement, the CD4 count had risen to 970 in December 2004. Same year I made a decision to pursue my studies having secured an  opportunity to join Kenyan Teachers Training College (TTC) which I had applied for earlier. My college to be was Garisa TTC in North Eastern Kenya,…………..km from my home area. Despite discouragements from a section of family members who foresaw my demise again due to my status, I made it without any major complications within the two year training period. I was able to be issued with three months drugs for the entire period. My graduation with a certificate in Education was a surprise to many. To me, this was a fulfilled dream. While I waited for four years to be absorbed in Government Schools, I participated actively patient support groups now initiated under AIDSRelief Program. AIDSRelief was a USG  funded program implemented by Catholic Relief Services SINCE 2004. It came with free treatment to the people living with HIV/AIDS where we were rolled over to within St. Camillus.
Besides Education, I am blessed with 3 little girls aged between eight and one year. All HIV negative after a number of tests. Am now employed by the Government of Kenya as a teacher. My husband knows his HIV status too. My last Viral Load test taken on February 2015 was suppressed.
My sincere thanks goes to Dr. Bertha, now program medical officer, Obillo Meshack, Program Coordinator, Fr.Emilio, Hospital Director and the entire St. Camillus Staff. Further, I congratulate the efforts of US government through CDC Kenya alongside the Kenyan Ministry of Health. Lastly the almighty God that has seen me through"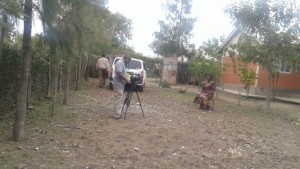 Meresa during media interview at her residence.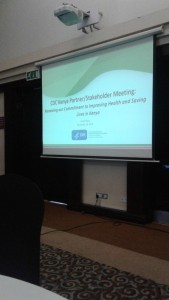 Meeting title projected.
Meresa presents at the FBO Dissemination in Nairobi.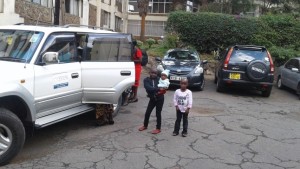 The entire entourage prepares to leave Hotel for the venue.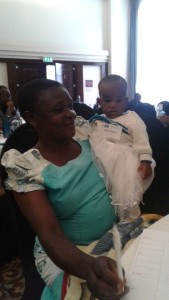 Meresa with her younger daughter during the CDC meeting.
. Meresa chats with head of CDC in Kenya Dr. Kevin De Cock.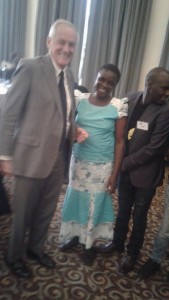 Meresa with Dr. De Cock.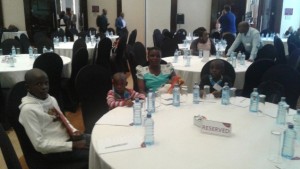 CDC meeting session.
HIV/AIDS BACK GROUND INFORMATION 
In the world, there are 40 million people who are HIV positive. 70% are in sub-Saharan Africa, and 2 million in Kenya.

In Karungu, where St. Camillus M. Hospital is situated, there are 5000 HIV positive in a population of about 20, 000 inhabitants.
In the western countries, the Antiretroviral drugs, which is very effective in the treatment of AIDS, has reduced drastically the death rate of HIV; but in the Southern part of the World people are continuing to die because the treatment is very expensive.
In 2001, in the sub-Saharan Africa, 2.3 million died of AIDS and 500,000 of them were children.
Karp Project started in 2004 at St. Camillus M. Hospital in Kaurung, had 11,698 clients in ART clinic and 6,097 were on therapy.
To achieve the WHOs goal of 90% of the population knowing there HIV status, 90% put on ARTs and 90% Adherence to treatment come the year 2020, the walk must start now with innovative approach and inclusivity of all stakeholders. Infection among the new borns can still be eliminated when access to PMTCT is widened where all pregnant mothers are encouraged to pursue skilled delivery at recognized healthcare facilities.
DO WE WANT THE PLAQUE TO CONTINUE AT THE COST OF OUR INDIFFERENCE?
In Kenya, although with the recent reduction of the price of HIV drugs, the antiretroviral therapy remains inaccessible to the majority of the local population. With your help, many children, youths, mothers and fathers may be saved.
WITH 25 € (EURO) EVERY MONTH YOU CAN SAVE A LIFE
Your contribution will allow the St. Camillus Mission Hospital to administer to the HIV positive antiretroviral drugs, which is composed of Stavudine, Lamividine and Efavirenz. It is important to emphasize that this therapy is not advisable to be stopped. For this, we ask you to continue with the support.
LET'S FIGHT AIDS WITH LOVE, INTELLIGENCE AND RESPECT.
AIDS
"Anyone who saves a life saves the world."
from Talmut
GIVE A HELPING HAND
Thank you all who wish to contribute to this initiative.
Documentation: