ART PROJECT
KENYA AIDS RESPONSE PROGRAM (KARP)
Report on benchmarking visit by Elizabeth Glaser Pediatric Aids Foundation (EGPAF)
BACKGROUND
St. Camillus Karungu partners with Kenya Conference of Catholic Bishops (KCCB) in implementing KARP which is a USG-PEPFAR funded initiative with a Goal to Reduce HIVrelated morbidity and mortality in Nyanza, Western and Rift Valley Provinces through provision of comprehensive , high quality services at faith based affiliated sites. Current second phase of 5 year term started in 2016. Among the 3 key result areas is the Adherence and Retention which is Scientifically measured in terms of HIV Viral Load (VL) within a patient blood strains per cubic milliliter after 6 months of initiation to ARVs and subsequent 12 month monitoring. The recommended level of VL Suppression being <1000c/ml or Low Detectable Level (LDL). Viral Load Suppression percentage is calculated with total number of patient done VL tests as the denominator over a period of time. Both WHO and NASCOP target for VL Suppression has been set at 90%. St. Camillus Karungu has proudly achieved above 95% for more than 1 year now out of 3159 patients currently on care.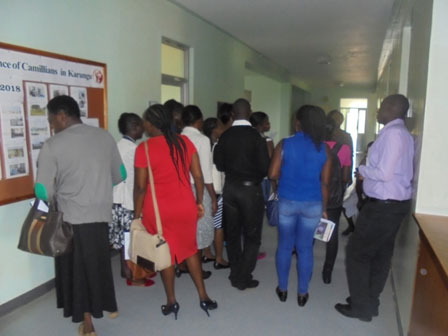 This impressive performance has been verified and acknowledged by both NASCOP and CDC. On September 27, 2018 we received a communication from KCCB-KARP office in Kisumu that EGPAF's intention to visit St. Camillus Mission Hospital, Karungu (KARP site) for benchmarking (best practice learning) on recommendation of CDC. EGPAF is an international organization also funded by PEPFAR through CDC. It partners with Ministry of Health in Homabay County equally offering HIV care services. Conversations were then initiated on itinerary including seeking approval from the Hospital Administration. Site program staff consented to the proposal and preparations were launched. Visit was scheduled for October 11, 2018.
EGPAF Visit Objectives
To learn and understand the structures and systems at viraemic clinics.
To learn Understanding Appointment & Defaulter management system at a High volume site.
To learn and understand the Case Management frame work and monitoring systems.
To learn and understand the Adherence and retention structures and monitoring systems.
Session Methodology
With the Support of the regional KARP Senior Clinical and Program Officer (SCPO) Mr. Aggrey Sudi, the guests were received by 9am at the Hospital Meeting Hall for Introduction, Welcoming Remarks and facility overview. These were facilitated by Obillo Meshack and Dr. Bertha (ART Lead Clinician). A brochure detailing facility program performance and profile was distributed to the guests alongside the day's program.
After a tour of the Hospital, the EGPAF team was split into 3 groups informed by interests in service delivery as highlighted in the Objectives above. Groups were then correspondingly attached to focal persons at the ART Project (CCC) for hands-on mentorship and sharing. While Dr. Bertha and Everlyne Anono (Clinician) handled Viraemia Clinics and Case Management, Patient Appointment/Defaulter Management was facilitated by Killion Oloo (Adherence Officer) and Eunice Dundo(Triage Nurse).Lastly, Dericks Kaoga (Lead Adherence Officer) and Lorna Bonareri (Adherence Nurse) took the third group through Clinic Patient Flow, Adherence and Retention monitoring. These sessions concurrently lasted for 3 hours before converging back at the meeting hall for a wrap up meeting and closing ceremony.
Closing and Remarks
Each EGPAF group-leads shared briefly on lessons learnt and observations on St. Camillus approaches crowned by Trip Lead Ms. Stella Jabuto (Homabay County EGPAF Technical Advisor on Retention and Adherence). Their take home basket included use of unique data tools, VL uptake and tracking mechanisms, Standard Operating Procedures (SOPs), Quality Improvement Annual Work plans, Utilization of Community Health Volunteers (CHVs) and Peer Support Groups and the Conducive Infrastructure for patient management. They promised to go and implement what could benefit their clients as learnt. However, they observed that time slotted for the visit was not adequate. To mitigate this, they were issued with contacts of focal persons for seamless consultations. EGPAF appreciated facility KARP staff, KARP Kisumu and St. Camillus Hospital Administration for their dedication and opportunity rendered.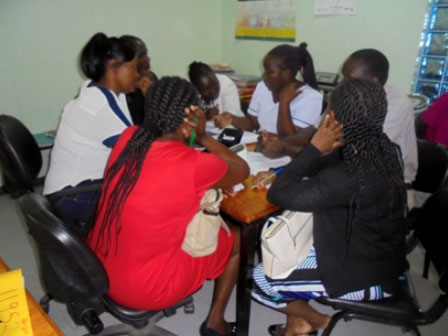 The hosts equally aired their last remarks while acknowledging EGPAF recommendations for improvement on our side too, effort to travel to Karungu and patience during the learning sessions. In his final remarks, Mr. Sudi took the group through Watchfulness African Culture Treatment Support Care for High Risk Children and Adolescents (WATCH) Strategy and how it has boosted adherence among the Pediatrics and Adolescents at KARP facilities. The occasion was officially closed by Mr. Obillo Meshack on behalf of Hospital Administration followed by a word of prayer from Erick Onyango, Program Data Manager and Lay Camillian.
Report Compiled by Obillo Meshack
Coordinatore KARP / HSL